*mutter* Skrev ett halvtimmaslångt inlägg via iPhonen som bara försvann när min app la av… HAT! Men det är väl bara att skriva igen och hoppas att inlägget blir lika bra eller bättre än det förra…
Ikväll var vi bjudna på middag hos Ove & Lillis. Och det utlovas alltid en trevlig kväll med supergod mat och trevligt sällskap.
Till fördrink eller Ostsup som det heter i min familj blev det Akvavit brännvin, oststavar (som från början egentligen var gjorda på Roomi ost som är en Egyptisk parmesan-liknande ost men man tager vad man haver) och som en lite nyhet cornichioner och gröna oliver. Det var karlarna (Ove, pappa och Adde) som tog snapsen medan vi andra gottade med osten.

Till förrätt blev det trattkantarellsoppa på egen plockade och förvälda trattisar serverat med två surdegsbröd från ett nyöppnat surdegsbageri i byn.

Bröd med smör och ost.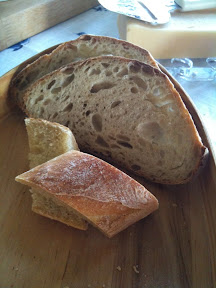 Dryck till var ett gott ekologislt vitt vin Giancarlo Ceci. Får ta och köpa hem detta tror jag.

Soppan var otroligt god och smakade mycket trattisar. Otroligt gott! Trots att jag "egentligen" inte gillar svamp speciellt mycket. Tror jag får ta och revidera min "jag-gillar-inte-lista" 😉
Till huvudrätt blev det ugnsstekt vildsvin och saltdegsinbakat lamm. Serverat med kokt potatis, brunsås, grönsallad, syltade trattkantareller och syltad ingefära. MUMS!

Ugnsstekt vildsvin med ugnsrostad lök och morötter.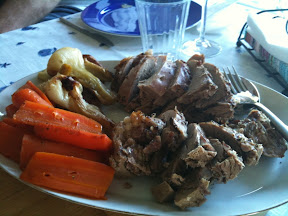 Grönsallad – som är en av mina favoritsallader!

Syltad ingefära och trattkantareller. Oh, det är så himla gott med syltade trattisar till kött och brunsås. *dregel*

Saltdegsinbakat lamm är alltså lamm som bakas in i ett "bröd" gjort på 1 liter mjöl, 3 dl salt och vätska. Köttet blr mört och får en väldigt speciell smak. Något jag verkligen gillade!

Drycken som serverades till var två olika rödviner, ett Rioja och ett franskt slotts vin. Jag är inte riktigt en Rioja drickare eftersom det är lite för strävt för mig. Men det franska vinet var riktigt gott. Men eftersom jag körde så fick det bara bli ett litet smakprov.

Sen, som om vi behövde mer, blev det Småländsk Ostkaka med vispad grädde och hemmagjord jordgubbssylt och hjortronsylt. Serverades med kaffe och på vackra Mon Amie servis. <3

Och några Mums Mums och Remi vid sidan av.

Behöver jag säga att vi rullade hem? Tack Ove & Lillis för en otroligt trevlig middag och fantastiskt sällskap. Som alltid hemma hos er, så känner man sig så välkommen och ni vet att ni betyder otroligt mycket för mig!
—————-
We had a lovely dinner at Ove and Lillis. And as always it was great food, lovely company and a million laughs. Thank you both!
/Karoleen via my iPhone