Godmorgon! Uppe tidigt idag, kan bara inte somna om… Det lyser in gyllene solstrålar genom persiennerna (syns inte så bra på bilden) och jag känner mig pigg trots den sena natten. Pappa kom hem strax efter 22 och vi satt uppe sent och fikade, pratade och tömde resveskor på en massa godsaker som mamma skickat med.
Jag hoppas på en solig dag idag. I eftermiddag ska vi till Ove och Lillis på middag. Det ska som vanligt bli väldigt trevligt!
Sen får vi väl se vad dagen bjuder på…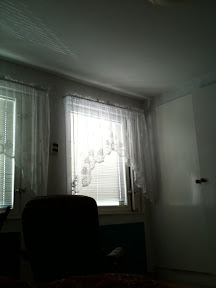 Good morning! I'm wide awake although it's early and we went to bed quite late. Dad got in at around 10 p.m. And we talked and unpacked all the goidies Mom sent til after midnight.
It's a beautiful day outside the blinds and I hope it stays that way… We're invited for dinner at Ove and Lillis's house, and you know that will be really nice.
Other than that we'll see what the day might bring…
/Karoleen via my iPhone