Yesterday we were invited to dinner at Ove and Lillis house. Lärarinnan was there too with her beautiful twins. It was really nice to see them all after Canada.
Starter: Rye toast with horseraddish spread (puréed horseraddish mixed with either whipped cream) and moose meat sliced very thin topped with red bell peppers.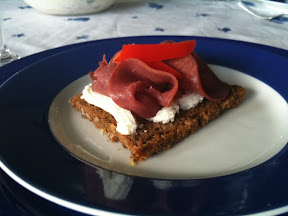 Very yummy, I love the combo of horseraddish spread and moose meat. Yum!
Entré: Grilled rainbow trout stuffed with rosemary and lemon.

Served with new potatoes, red roe sauce (made with red onions and sour cream) and Lillis signature salad.

Oh my, the trout was brilliant. I LOVES Oves fish! Soooo good!
Yum yum yum!
Served with the food was a white organic wine, Kalis.

And Moms non-alchoholic option.
The twins were playing and being as cute as only they can. And it's always such a great time at Ove and Lillis!
For desert we were served a whole lot of yummy treats. A beautifully sweet Watermelon is hard to find in Sweden, but Lärarinnan found one…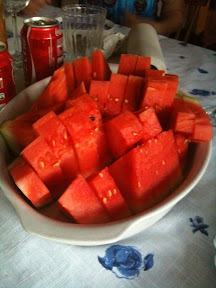 Swedish goodies: Masariner, a lovely little baked short-bread crust traditionally filled with almond-paste with and topped with a glaze. Finger chocolate sticks and remi biscuits with a chocolate coating and crispy center.

Nougat in lots of differen yummy flavours. White nougat with pistachio nuts is a well-loved Egyptian treat and everone that has tasted it likes it. We found pink ones glavored withvstrawberries, caramell stipped nougat and chocolate covered nougat.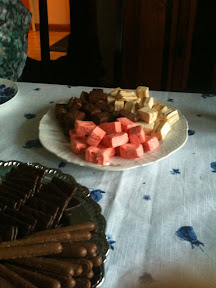 Got to buy more if the strawberry and caramell ones. They were brilliant!
Thank you Ove and Lillis for a great dinner and as always great company!
Location:Arlandastad,Sverige